Our Instructors
All of our teachers are 200-500 hour Yoga Alliance Certified Instructors. Our Inferno Hot Pilates teachers are trained with Gabi Walters.
Tommy Antoon –Teacher Owner
"Falling is not failing, do the best you can, this is your practice, give it 100% and when you need a break, lie down" are some of the inspiring words Tommy uses to motivate his students while he is teaching.They are more than just phrases, but rather lessons Tommy has acquired throughout his colorful past. Tommy's yoga journey started in 2011. At the time, Tommy had diabetes, he was overweight, and was on 12 different prescription drugs and 2 anti depressants. After suffering a heart attack, Tommy knew he had to change his lifestyle or he would potentially lose his life.
With the encouragement of his best friend Tommy took his first Bikram yoga class in December of 2011. It was the beginning of a life changing transformation that he discovered through his yoga practice. The initial class led Tommy to Manhattan, NY, where he took part in a 30 day yoga challenge . When he completed it, the teachers were inspired by Tommy's story and urged him to become a hot yoga instructor. With the help, love and support of family, friends and extended family Tommy attended at least 1 hot yoga class everyday for 377 days through his hot yoga training.
Jennifer discovered yoga after the birth of her second child that left her with severe depression and heavy weight gain. She decided to give yoga a try. She started practicing yoga in 2005 and found that it slowly started to change her life in a positive way. She realized its power to heal her depression and resulting in a healthier life style that eventually helped her to lose weight. The more she practiced, the more it helped her find the inner calm, patience, and the connection between mind and body. After many years of practice, she decided to deepen her practice. Jennifer completed her 200 hour yoga Alliance Certification with Yoga Garden institute. She also became certified as a personal trainer through the American Aerobic Association International Sport and Medicine. She is also a certified Hot Inferno Pilates instructor.
Jennifer specializes in the power yoga class a type of yoga that can be challenging, vigorous, powerful and yet accessible to students of all levels. Her power yoga class is based on a Vinyasa flow, through music, sweat, laughter, transitioning from pose to pose with emphasis on breath and movement. It's also designed for a total body workout, which creates lean, tone muscle mass, while boosting metabolism and at the same time detoxifying the body.
Since I joined the yoga community at Pacifica Beach Yoga I have been an avid practitioner of Bikram style yoga. I joined the first 200 hour Yoga Alliance Teacher Training at Go 2 Yoga with Lisa-Ann Kenyon, Jami Bailey in February 2018. This has improved and deepened my personal practice and understanding of yoga.
I am very excited to join the staff at PBY and Go 2 Yoga.
Yoga has played an invaluable role in my life since 2012. It wasn't long after
I attended my first class at Tommy's studio when I felt compelled to deepen my practice through a teacher training program. I completed the Traditional Hot Yoga Training with Yoga to the People in 2014. In 2018, I completed my 200-hour Yoga Alliance Teacher Training with Go 2 Yoga, focusing on developing my skills as a vinyasa instructor.
I feel so fortunate to have been introduced to this practice, and to be a part of the wonderful PBY and Go2 community, both as a teacher and student.
I started Bikram yoga in 2008 and I knew nothing about Bikram yoga or any yoga before. It was very different challenge than working out at the gym. Bikram yoga is not a seasonal activity for me. Bikram yoga is preventative medicine and it helps for me to fight stress, slow down the aging process, create energy, and stay toned and lean. It has become my physical therapy and permanent part of my schedule. I completed Hot Yoga Teacher Training Course, Advanced Vinyasa training in Bali, and Inferno Hot Pilates training. I feel compassion for every single person in each class and want to treat you with kindness and care. I just want to make your life a little bit easier.

My Favorite Quotes are
"You cannot give your life more days, but you can give your days more life", "Forget the past. Remember the lesson"
"Live your life and ignore the negativity. Don't let anyone steal your happiness"
A few years ago, after college I was in need of an outlet to help me relax and move my body in. I was completely new to yoga when discovering this studio and have been so grateful ever since! I teach here now, and absolutely love it.

I teach heated Vinyasa, Bikram, Inferno Hot Pilates's, FitFlow & TRX yoga. I believe my commitment to keep coming back to yoga each week is what has changed my world for the better. I went to school for psychology and although I am not actually doing psychology, I keep finding how yoga and psychology are deeply connected.

In class I always tell my students to mindfully work with connecting their mind and their bodies, practicing conscious awareness. To often our mind and body go into automatic mode or auto pilot mode because of our daily routines for example. The more regularly we practice moving through mindfulness (or conscious awareness) the easier it becomes and the less automaticity we operate. The mind is so powerful and when the conscious mind is synchronized with the body, great positive change and healing can happen.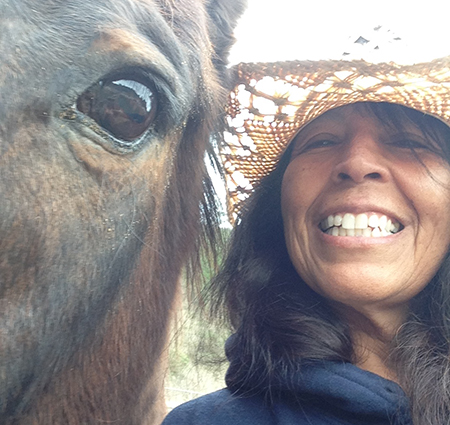 Gloria Minjares – Teacher
Gloria is a self-proclaimed health and fitness lifer (GYM RAT!): Gloria's fitness background includes Dance/PE BA degree from SFSU; she trained and studied the Brazilian martial art form of Capoiera- for 17 years and taught classes for Abada Capoiera in San Francisco; she also trained as an amateur boxer for 7 years and taught fitness classes with Third Street Boxing Gym. Her passion for fitness and health has led her to her yoga practice and the hard-core workouts of Hot Pilates (Certified Inferno Pilates Instructor). Gloria's other passions and the things that help keep balance in a crazy world are her dogs, horses and the ocean. In addition to her Dance/PE BA degree, Gloria has a master's in education and administration and (in the real world) works as a middle school administrator for SFUSD.
Yoga is to connect your body and mind.
When I started practicing Bikram, I fell in love and I was hooked...though not from my very first class
It helped my frequent headaches and back issues from a car accident. It even helped my blood pressure — my doctor was impressed and took me off medication.
In Fall 2016 I attended Bikram Teacher Training to pursue my dream of teaching yoga to others. I truly believe that Bikram yoga is the best exercise for your mind and body.
There is an old Chinese saying, "Healthy is wealthy!" Even with all the money in the world, you need a healthy body and healthy mind to live a full and happy life.
I started practicing yoga, in 2014, after a running injury and have never looked back. Bikram has brought me an inner peace that I have not found with anything else I have done. After practicing for many years, at Pacifica Beach Yoga, I decided to change careers and study to teach so that I could bring the same physical and mental healing to other people, in my community and beyond. Bikram is now a family affair with my husband and twin daughters practicing as well!
Haleli started practicing yoga when she moved to Santa Cruz and discovered a new found inner connection with the mind and body, wanting to delve deeper into it ever since. When she moved to San Francisco, she came to hot yoga and felt the powerful benefits from the heated practice and resonated with the home vibe of our studio's. She received her 200 hour mystical yoga teacher training in Bali, Indonesia during her life changing year of travels.
Haleli is a believer in the power of yoga and its immensely positive influence on health and well-being. She goes with the flow throughout life and in her practice, manifesting the beauty from within, becoming one with all surroundings.
Kevin Fitzmaurice – Teacher
I started practicing regularly in November 1996 and I've been teaching regularly since graduating the Bikram teacher training in June 2000. The emphasis in my classes is to get the form and alignment right, and then to go to whatever depth you feel is appropriate that day. I encourage the students to be aware of the entirety of their physical body in each posture so it becomes a holistic practice, and you can find that place of oneness while holding the posture. From there, you can do your own yoga therapy while holding each posture, sending energy to areas of the body that need it, expanding your awareness to experience cosmic consciousness, or just visualizing the energy flowing through the channels of your body to clear the energy flow. All this, while challenging yourself to work to your edge in the postures using a focused, relaxed, effort! At the end of class, feel your body purified, your mind calm, and your awareness clear.
In the Fall of 2004, in L A, I completed Bikram teacher training. My first regularly scheduled class started on January 8th, 2005 and I taught that class in San Carlos for 10 years. I began to slowly cut back from teaching eventually to only a few classes per week. I taught classes from SF to San Jose as many as 10 classes per week regularly. I wanted to teach less, my knee came back healthier and I was back to riding everyday, eventually averaging 8,000 miles a year the last four years. I just recently moved to Pacifica and now I'm teaching in the same room I taught at in 2005 when I was just starting. Every studio I've taught at (8) I have fond memories and it is special to be back teaching in Pacifica. Yoga is a part of who I am now and I plan to keep stretching it.
Lisa is a California native and fell in love with yoga in 2004. After practicing for several years, she decided to become a yoga teacher while living in Amsterdam, The Netherlands. Lisa believes yoga is more than a set of postures; it is healing practice which allows for a deep connection with our higher selves. Lisa draws on her own spiritual journey and passion for yoga to create rich and dynamic classes. She enjoys empowering her students to test the limits of their minds and bodies. Her classes are upbeat, joyful and nourishing aimed to open the body and soothe the soul..
My yoga story began 20 years ago when I took my first yoga class. It was the first time I had the experience of accepting my body exactly the way it was, and moving in a way that was healing. I was an extreme sport athlete; snowboarding, mountain biking, and cliff jumping my way around the country. I had many injuries and pains in my body, seeing my body as a tool to be used and abused. Yoga changed that. It taught me to make friends with my body, and to learn humility. I didn't have to compete with anyone, I only had to do what was right for me, my own personal edge. Yoga also taught me to love my body, instead of hating what I saw in the mirror I learned to love what I saw, and see my beauty. I teach and practice Bikram Yoga, as well as coach women one-on-one to find their intuition and feminine power. I'm on a mission to wakeup the world, liberate, and inspire people to live their life purpose. Come take a class with me! It will be fun, enlightening, and irreverent. I look forward to seeing you in the hot room.
I've been practicing yoga for over 10 years. In my 20's, my personal yoga practice was active and dynamic, much like the energy of New York City where I lived. My relationship with yoga never went beyond getting a good workout. Then a few years ago, I experienced a major illness. As a wise yogi may say, it provided an opportunity, however unwelcoming it was, for me to develop a deeper relationship with yoga; I had to look beyond the challenge of practicing a handstand. Since then, I received my RYT 200 training in Bali followed by the RYT 500 training here in SF, specializing in alignment-based vinyasa flow, restorative yoga, kid's yoga, and yoga sculpt. I am grateful for yoga, for it allowed me to reestablish a healthier connection with my heart, mind, and body. Further, I am passionate about the idea of yoga service. It is with that intention I work with a non-profit to provide trauma-informed yoga and mindfulness practice to vulnerable communities in my spare time. I look forward to sharing my yoga practice with you all.